Installation
To install this add-on, first download the zip file from your purchase receipt and save it on your computer. Do not unzip this file.
Login to your WordPress site and go to Plugins > Add New and click Upload. Upload the zip file from your computer and click Install Now. Then it's ready to activate.
Settings
The settings for the add-on are located in Books > Settings > Add-Ons. There's a section for "Goodreads Data" that contains all the settings.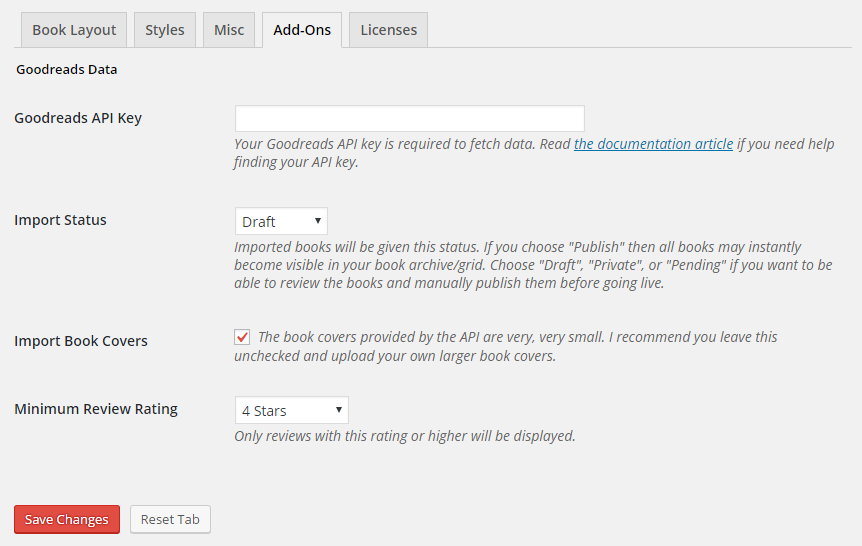 The most important is that you enter your Goodreads API key. See this article for details:  Getting an API Key.
Setting: Import Status
This is the status each new book that's created will be. These statuses are similar to post statuses.
"Draft", "Pending", and "Private" are all very similar. All three of those mean the books will be private and only you or other logged in users will be able to see them until you manually "Publish" each one.
"Published" means the books will be publicly viewable on your site as soon as they're imported.
Setting: Import Book Covers
This is optional because the book covers sent through the Goodreads API are very, very small. As such, I highly recommend you don't import the book covers and manually upload your own large book cover images.
Setting: Minimum Review Rating
This setting is used if you have the "GR Reviews" option added to your book layout (see below). You can choose to only display reviews that have a certain rating or higher. This is a good way to filter out negative reviews you'd rather not feature.
Settings: Book Layout
New fields have also been added to the Book Layout page. The fields from this add-on are prefixed with "GR". Examples include: "GR Rating Count" and "Goodreads Average Rating".