Installation
To install this add-on, first download the zip file from your purchase receipt and save it on your computer. Do not unzip this file.
Login to your WordPress site and go to Plugins > Add New and click Upload. Upload the zip file from your computer and click Install Now. Then it's ready to activate.
Settings
The settings for this add-on are located in Books > Settings > Add-Ons. There's a section for "3D Book Covers" that contains all the settings.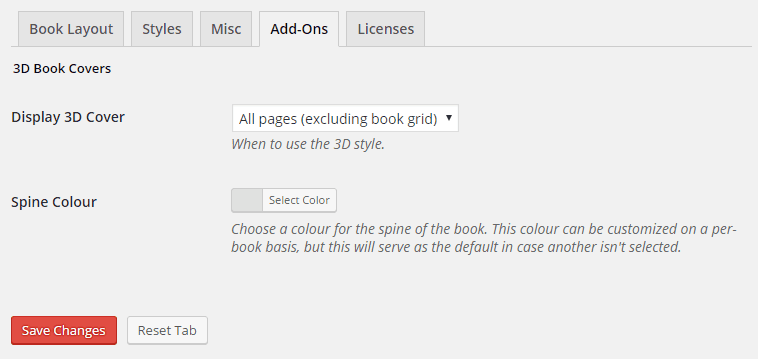 You can choose where to use 3D book covers. The options are Nowhere, Single Book Pages Only, and All Pages. Note that if you choose All Pages, the 3D book covers will still not be used in the [novelist-books] shortcode grid.
You can set a default spine colour. This is the colour that will be used if a custom one isn't set in an individual book.
Spine Colour
The colour of the spine can be overridden for individual books. Go to Books > All Books and edit one of your books. Towards the bottom of the page, there will be a new setting for "Spine Colour". You can use this to choose a spine colour for this individual book.