The add-on comes with an Upcoming Events widget, which displays a list of your upcoming events.
The widget can be found in Appearance > Widget. Look for "Novelist Upcoming Events" in the list of available widgets.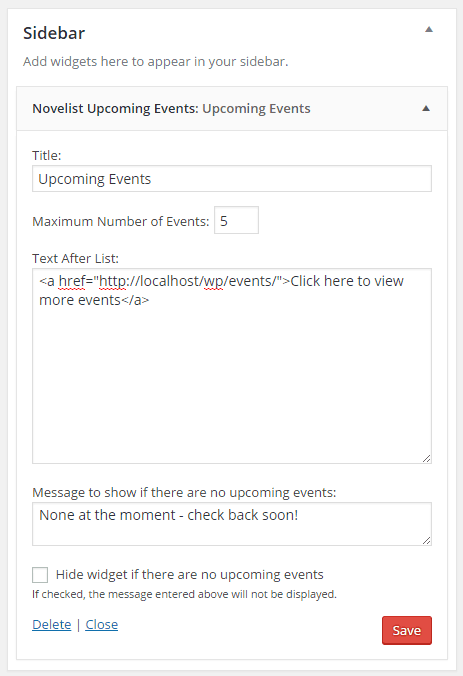 Settings
Title – Name of the widget.
Maximum Number of Events – Maximum number of events to be shown in the list.
Text After List – Any text/HTML entered in this box will be displayed after the list of events. This is a good place to put a link to your full events calendar page. Example:<a href="URL TO EVENTS PAGE HERE">Click to view more events</a>
Message to show if there are no upcoming events – If zero events fit the criteria (event start date in the future), then this message will be shown instead.
Hide widget if there are no upcoming events – If this is checked on, then the previous option is ignored. Instead, if no events fit the criteria, then the widget is completely hidden from the sidebar. No text or widget title is displayed. This is a good option to check if you like to save space in your sidebar.